We're working to create more online events. Scroll down, below the calendar, to make a suggestion for an event, and to see upcoming events plus summaries of past events.
Change the calendar view to Week, Month, or an Agenda view by
selecting a tab at the top right of the calendar.
UPCOMING EVENTS

Feb 24: Stephen Davies on How to Use iNaturalist
March: TBD
April 21: Merikay Smith on Less Lawn, More Life with Native Plants
May: TBD
PAST EVENT: What's in Sligo's Water?

The Water Quality committee – Anne Vorce, Pat Ratkowski, Paul Chrostowski – and guests Mike Smith, FOSC President, Elaine Lamirande from the FOSC Stormwater Committee, Kit Gage from the Advocacy Committee, and Rachel Gauza from the Park Dept's Aquatics Resource Management office presented a fascinating glimpse into the state of water quality of Sligo Creek today and trends over time.
These speakers discussed many facets of Sligo's water quality: pollution and the importance of FOSC's citizen-powered Water WatchDog pollution tracking program, microplastic and persistent chemical contaminants, sediment pollution, chemical and Coliform bacteria loads now and trends, macro-invertebrates in the Creek, the detrimental impact of the increasingly powerful stormwater events on Sligo, and FOSC's advocacy work.
We then opened things up for questions, observations, and suggestions on Friends of Sligo Creek's water quality program.
Check out the video of the program on the FOSC YouTube Channel: https://youtu.be/MYa5cHbtqbY
PAST EVENT: Leave the Leaves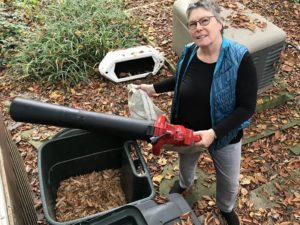 Why leave the leaves? The habit of raking leaves off your lawn and away from your garden beds turns out to be unnecessary, depriving your soil of enrichment and overwintering habitat for many creatures.
Check out the video of the webinar to learn how to prepare your leaves and common myths about leaves. Use code ?xk1pzy+ at the prompt. The presentation runs from minute 2 to 17.5. At about 17.5 minutes, Kit summarizes the why and how to leave the leaves on your garden, followed by a half hour Q&A discussion, a lot of which answers questions on how to do back yard composting.
Best practice: Leave some leaves on your lawn and let them blow into your garden beds, where they will decompose over the winter, enriching your soil far better than a bag of mulch. Push the excess into a corner of your yard. Your plants, and the salamanders, toads, and butterflies thank you too.
Good: Shred your leaves with your mower and leave them on your lawn and in your garden beds. Really.
OK: Use a vacuum blower/shredder to collect and shred excess leaves, and a bin to keep them handy for adding to your compost bin.
PAST EVENT: Love Nature?
Do you love nature but have second thoughts about bees, spiders, snakes, or foxes? Do you feel a bit queasy by their presence in our natural landscapes, even while supporting conservation of our natural areas?
Biologist Kerry Wixted, of the Wildlife and Heritage Service, Maryland Department of Natural Resources, discussed these critters and more at the FOSC zoom event on Tuesday, July 21.
We made two changes to the format this time around: we encouraged everyone to join in at 7:00pm for socializing by Zoom, and we opened up the discussion with the event speaker to verbal as well as chat discussion/questions.
Kerry Wixted is an education and outreach specialist with the in the Wildlife and Heritage Service, Maryland Department of Natural Resources. She holds a bachelor's degree in wildlife and fisheries management from Frostburg State University and a master's degree in biology from West Virginia University.
Our thanks to Michael Wilpers, Natural History Committee chairperson, for arranging and hosting the event.

PAST EVENT: Surprises in the Park

Surprises in the Park! We're all walking, biking, scootering in the park, but did you know how many different kinds of leaves and nuts and other natural things you can find if you look carefully?
Kit Gage led a group of children and their adults through surprises awaiting us in Sligo at this time of year and different ways to think about them.
Our thanks to Kit Gage for the presentation.