Thanks to neighbors for a big sweep at the Wheaton Branch Stormwater Ponds Winter 2022
Thank you, Families, Students, Neighbors, Friends, for your enthusiastic participation in the Wheaton Branch stormwater pond cleanup on Sat, Feb 12. The weather was mild and just right for working outside. More than 30 participants, many of them teens and young children, came out to fill 50 trash bags with litter that repeatedly fill these ponds, which are important filtering agents for Sligo Creek. County workers are scheduled to pick up the bagged trash and recyclables on Monday, Feb. 14. Your spirit of volunteerism is a wonderful Valentine's Day gift to our community! –Susan DeFord, Section 7 Steward

Fall 2021 Sweep the Creek
Neighbors across the Sligo watershed Swept the Creek of litter that polluted the Creek through storm drains, been dropped along the trails, tossed from cars, dumped, etc.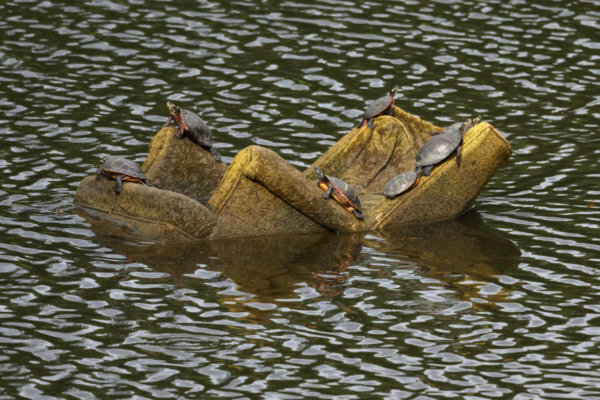 Seven eastern painted turtles bask in the sun on a large upholstered chair floating in the Wheaton Stormwater Ponds. Photo by Stephen Davies, Aug 18, 2021
Sligo Litter Listserv

To explore ways to address Sligo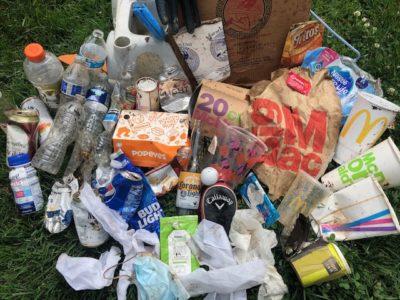 plastic and other kinds of litter, we have established the fosc-litter listserv. If you have an interest in litter issues beyond the bi-annual Sweep the Creek litter pick-up, you are welcome to join the listserv. Email [email protected] to request an invitation to join.
Recently the Litter group discussed other ways to tackle litter in Sligo, including: installing a trash trap in Sligo; contacting other area organizations involved in litter reduction; pursuing bag and bottle legislation; restarting storm drain painting; listing hotspots for trash in Sligo; and other ideas.
Informal neighborhood group plogging/sweeps are continuing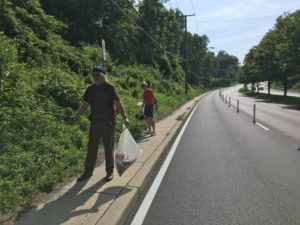 Litter along University Blvd is a major trash problem for Sligo Creek. Now that we have the protected bike lanes, it is safe enough for the Monday Morning Sligo Headwaters Plogger Team to plog (pick up litter) along this highway. Four bags of litter were collected on June 21! Great job!
Storm drain art: part of building public awareness that litter harms the creek and its wildlife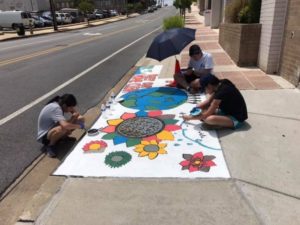 This June, students got creative in order to build public awareness about the impact of litter on the Creek. They painted storm drains with messages about reducing litter and clean water. Thank you!
Many people do not know that the local storm drains flow directly into Sligo Creek, unfiltered. Litter and other threats to wildlife (such as paint, solvents, sudsy water, pet waste, roadway salt and oil, etc) create chemical pollution that harms or kills microorganisms, insects, fish, and the animals up the food chain. In February 2021, roadway salt from the beltway killed hundreds of fish and salamanders in a single pollution event near Sligo Creek and Forest Glen Road. Per DEP, excessive salt from the Beltway is thought to be the cause.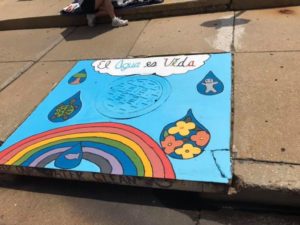 Learn more about the impact of pollution on Sligo Creek water and wildlife on the FOSC Water Quality pages.