Neighbors, school groups, clubs, families and other creek stewards work together twice yearly to remove litter from Sligo Creek, both to restore its natural beauty and to develop a closer connection to this wonderful natural resource in the heart of our communities.
Sweep the Creek: an initiative of the Litter Committee
This year, FOSC held an Individual / Family Sweep the Creek. Many proud sweepers took care of our park and sent us their photos.

Thank you for pitching to keep Sligo Creek Park clean! The wildlife thank you too.
Share your photos of your Sweep on facebook, @friendsofsligocreek, or email them to [email protected] fosc.org.
Prior to the novel Corona virus…
Twice a year, over two days, FOSC volunteers don gloves, boots, even waders, to collect an amazing variety of plastic, metal, glass and other trash that finds its way into the 8 mile length of Sligo Creek Park. Known as Sweep the Creek, it's an FOSC signature program that is usually held in the spring and fall.
At Sweep the Creek, hundreds of people come out to help rid the park of trash, keep the water clean for wildlife and plants and experience the wonders of Sligo Creek in a new way. Sometimes so many volunteers come out that we can also tackle eradication of invasive vines and plants under direction of a certified Weed Warrior volunteer and our Remove Invasives Program committee.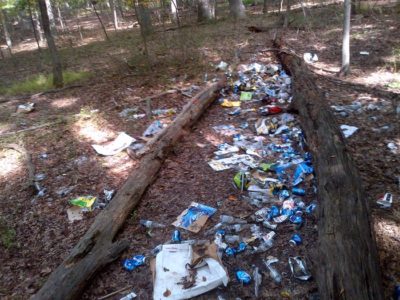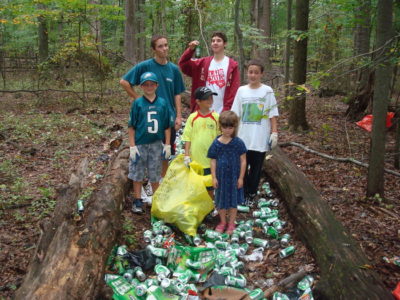 Thanks to a partnership with the Montgomery County Parks Department, FOSC is able to provide gloves and bags for every volunteer. The trash and recycling that volunteers collect is picked up by the Parks Department.
To learn about the next event, check out the FOSC Calendar of Events. If you join Friends of Sligo Creek you will get our newsletter delivered right to your inbox so you have a heads up about upcoming events and articles about past events.
Many people collect trash and recycling between Sweep the Creek events. If you do so, you may put the materials you collect either in the trash cans in the park or dispose of them at home in your regular trash and recycling containers.
The Sweep the Creek program is an initiative of the Litter Committee. While we have a lead for the Sweep itself, the chairperson position for the larger Litter Committee is vacant. Please let us know via [email protected] if you are interested in this volunteer position or in becoming a member of the Litter Committee.