Identify and remove invasive plants in Sligo to allow native plants and wildlife to thrive.

Twenty years from now we can have ten alien plant species covering much of the Park, or we can have our 372 native plants thriving in impressive variety!
Why Remove Invasive Plants?
We are in the process of losing the Park to non-native, invasive plants. Most of these plants were brought into this country intentionally as ornamentals. These plants found a good environment to grow and reproduce with few, if any, predators or diseases. Most grow far faster than native species and out-compete them.
The RIP Program (Removing Invasive Plants) was formed to control and remove these unwanted plants. Since RIP's inception in 2004, most non-native invasive vines been removed from mature trees in our Park. Many non-native shrubs have also been removed so native shrubs can be reintroduced either by planting or natural seed dispersal. The Resources on Invasive Plants page has detailed information on common invasives that have migrated into Sligo Creek Park, typically from yards and landscaping.
Though a constant effort, invasive removal work is showing progress. There are fewer non-native plants in some parts of the park now and new growth of native species. No doubt climate change will bring to the Park some new species native to the southern states, but these will also bring their predators.
FOSC Weed Warrior Listserv
FOSC

Weed

Warriors

Tips & Tricks
Invasive Plant List of 1970
The invasive plants present in Sligo Creek park 50 years ago were documented by Dorothy Salisbury in her Plant List of 1970-71 and her companion guide, Salisbury Notes. Many "occasionally" present invasive plants and vines in 1970 are common scourges today.
Since 2004, Friends of Sligo Creek has partnered with the Montgomery County Parks Department on a non-native invasive plant removal program. Called Weed Warriors, Montgomery Parks developed the program to provide training, advice and support for removing non-native plants. Weed Warrior Supervisors lead Sligo volunteers in the removal of non-native invasive plants from the Park. We'd love to have you join in. Upcoming events are posted under Events.
Weed Warrior training is conducted by Montgomery Parks. With Weed Warrior certification you can obtain Parks approval to work on your own in addition to organized events. To find out about on-line training, visit the Parks Dept Weed Warrior webpage or email the Weed Warrior program at: [email protected]

In Partnership: Weed Warriors

Along the southern border of the Beltway at Forest Glen Rd and Sligo Creek, there is a thriving wetland/floodplain. Weed Warriors have recently devoted many hours to removing the invasive vines choking the newly planted as well as established trees, including some large red cedars. Check out the video!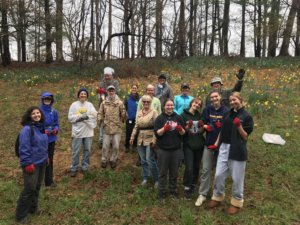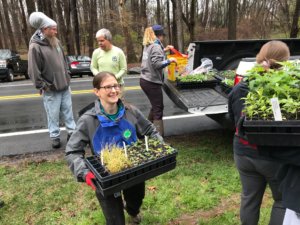 Weed Warriors held a great planting work day in April. We had high school students and staff, Parks staff and Sligo Weed Warriors who planted hundreds of native plant plugs. Thank you to everyone who took part planning and planting!
Jim Anderson, Weed Warrior Supervisor, longtime Invasives/RIP Committee chair, and former FOSC Board member, was featured in a May 2021 Voice of America video. Jim shows the extent of invasive plant Lesser Celandine in just one section of Sligo and urges people to become certified Weed Warriors to give native plants a chance to get reestablished and rebuild the ecosystem.
Invasives/RIP Committee: Open to All
Become a part of the Invasives/RIP team! Contact the Invasives/RIP Committee Chairperson Walter Mulbry at [email protected] or through the Contact Form on the Contact page.
Volunteer at RIP events to remove invasive plants

Learn to identify invasive plants and ways to remove them

Become a Weed Warrior and help clear invasives and monitor areas for recurrences.

Share your experience with others through our newsletter

Encourage friends and neighbors to volunteer at a RIP event

Remove invasive plants from your yard and encourage your neighbors to do so as well to keep them from spreading

Weed Warriors at Work
Summer 2021

Photos courtesy of Ed Murtagh and Christine Dunathan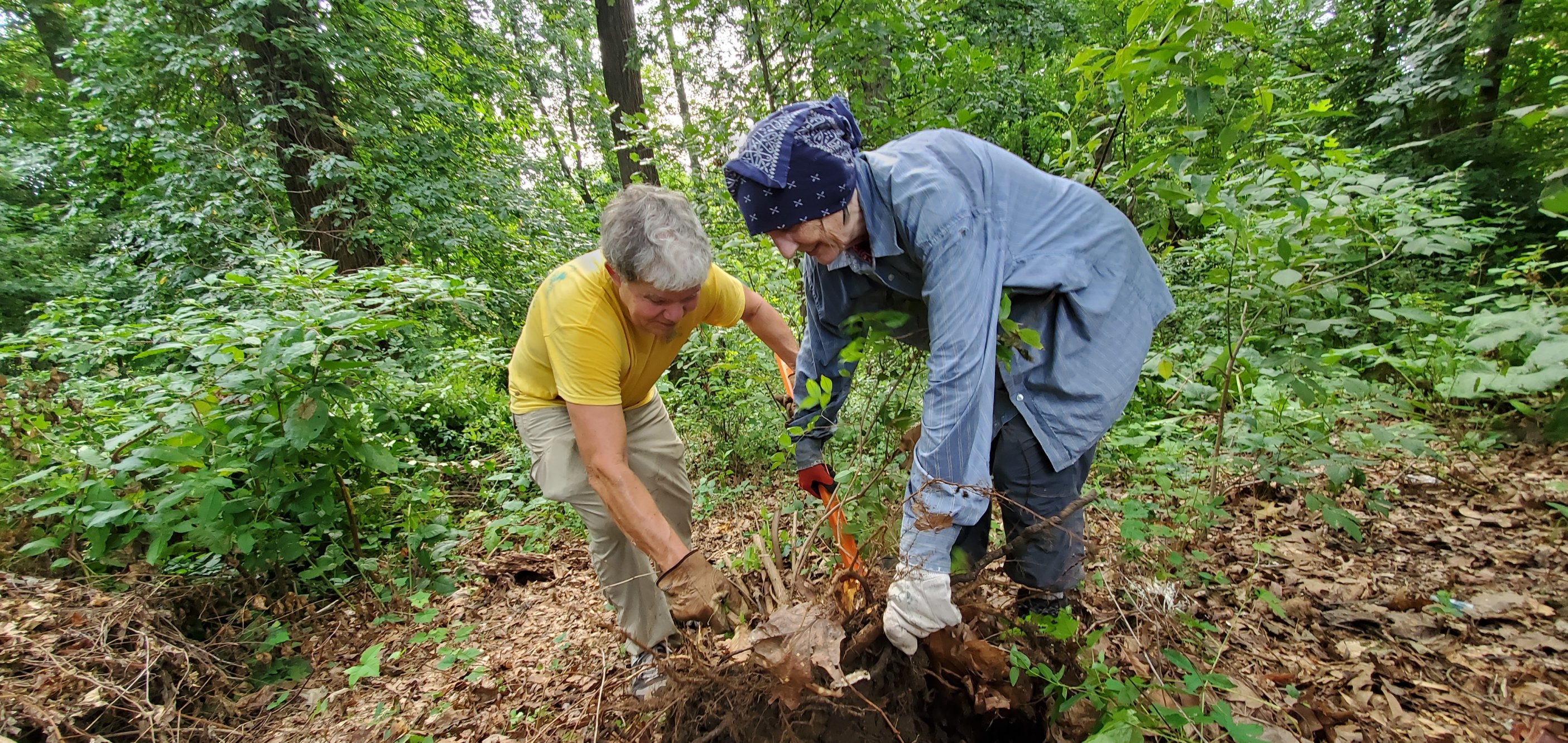 Weed Warriors Walter Mulbry and Barbara Francisco wrestling a bush honeysuckle plant from the hill south of the Long Branch Library in Section 10.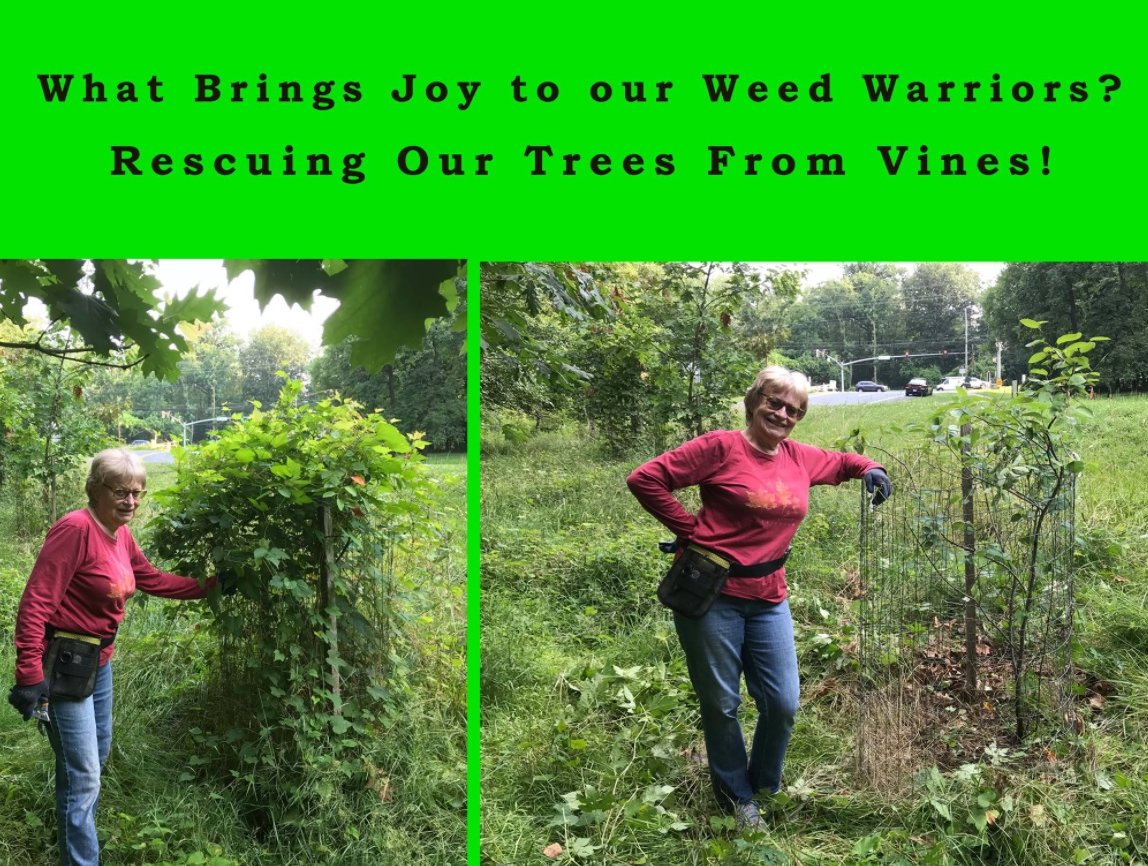 A happy Weed Warrior after liberating the sapling from some overpowering vines.
Fall 2019
Photos courtesy of Montgomery Parks