Report a Plant or Animal Sighting
In May of 2020, FOSC moved the Report a Sighting of Animal/Plant sightings in Sligo to iNaturalist, an online photo and description database. Using iNaturalist, naturalists and scientists as well as the public can add sightings. In fact, there are nature reports from all over the world.
Working with local naturalist Stephen Davies, the Fauna and Flora of the Sligo Creek Watershed project now lists more than 1,500 observers making more than 46,100 observations of nearly 3,500 species of plants, mammals, birds, frogs, salamanders, snakes, and insects in Sligo.
Report your animal or plant sighting on iNaturalist!
It's quick and easy…follow these steps. On iNaturalist, you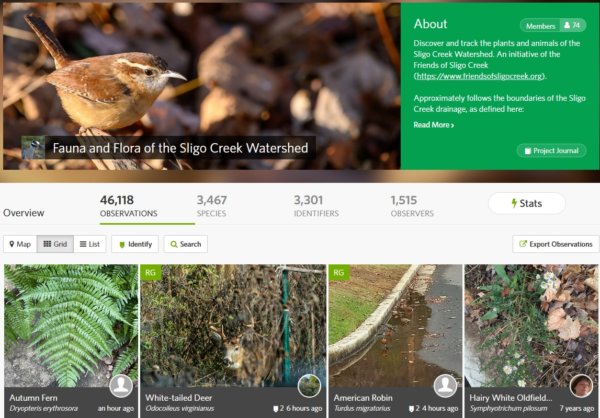 can view the reports as either a grid (with large photos) or as a compact list. Using the search box, you can find individual species (such as "Monarch butterfly") or groups of organisms (such as "butterflies") or select pre-established filters for various types of plants or animals.
FOSC is also using eBird to report bird sightings. To learn how to post your bird photos, please visit the Sightings on eBird page for simple instructions on reporting your Sligo sightings.
FOSC's archives of animal and plant sightings from 2014-2018 continue to be available in the FOSC Sightings Archive. We will be adding all the reported sightings through 2019 and the first 5 months of 2020 to the Sightings Archive in the coming months.