Sligo Section Stewards are a vital part of FOSC's work. They provide oversight, leadership, and hands-on work within their section of the Creek. There are presently 19 steward sections in the eight-mile mainstem of Sligo Creek, plus its tributaries. We currently have openings for 5 new stewards in sections 4, 8L, 12U, 13 and 14. Indicate your interest in becoming a Sligo Steward through the Contact FOSC form.
Stewards by Section
#
Section
Steward
1
South of New Hampshire
Nicole Robertson
2
New Hampshire to Maple
Linda Tipton
David Koelsch
3
Maple to Piney Branch
Bruce Sidwell
4
Piney Branch to Wayne
Steward Needed
5
Wayne to Colesville
Terry Anderson
6
Colesville to Forest Glen
Ross Campbell
7
Forest Glen to Dennis
Judy Tasse
8L
 Dennis to Windham Lane
Steward Needed
8U
Windham Lane to University
Margaret Herbers
9
North of University
Kathleen Michels,
Ed Murtagh
10U
Long Branch (N of Piney Branch)
Karen Hatwell
10M
Long Branch (between Piney Branch & Carroll Ave)
Zach Boren
10L
Long Branch (S of Carroll Ave)
Jo Arnone
11
Takoma Branch
Keith Kozloff
12U
Wheaton Branch (above Dennis Ave)
Steward Needed
12L
Wheaton Branch (below Dennis Ave)
Yasemin and Sam Luebke
13
Comstock Branch
Steward Needed
14
Flora Lane
Steward Needed
15
Takoma Woods
Richard Payne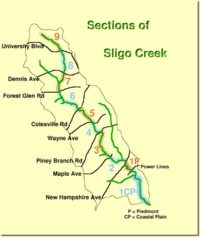 Section Steward Opportunities
Sligo Section Stewards usually monitor their section, work to improve it, help coordinate others' efforts and advocate for it. They work at the discretion of the Board of Directors to conduct FOSC-authorized activities. Some specifics you might undertake as a steward:
Walk your section of the creek/path periodically, keeping an eye on things, and advocate for or explain about the section as questions arise.
Example: When trash barrels were being returned to the Park, one steward suggested to the local Park Manager where more effective locations might be.
Note and report new problems, or help others know how to make these contacts.
Example: When new house construction near the creek was creating muddy run-off, the steward contacted the Department of Permitting Services via a Water WatchDog Report to obtain enforcement of pollution regulations.
Protect the treasures of the woods and water, and arrange, recruit volunteers for, and promote Weed Warrior activities in your section.
Example: Because invasive plants are such a fundamental threat to the biodiversity of Sligo, stewards usually become Weed Warriors, a Montgomery County Parks training program to teach how people can identify and remove targeted non-native, invasive species. As their schedules permit, they arrange or promote group pulls of invasive species.
About twice a year, staff a table in your section for a Sweep the Creek event focusing on collecting litter or pulling invasives.
Stay current with Friends of Sligo Creek activities and developments.
As needed, coordinate with others in your section to address park-related issues of concern.
Indicate your interest in becoming a Sligo Steward through the Contact FOSC form.