Documenting the plants, animals, habitats, and ecology of the Sligo Creek watershed (past and present); pursuing habitat improvements; and providing educational experiences through nature talks and outings.
Natural History Committee Projects
FOSC's Natural History Committee helps us humans near Sligo Creek Park appreciate the variety and abundance of plants and animals with whom we share the watershed. We do this by promoting citizen sightings of Sligo wildlife, documenting the flora and fauna of Sligo, advocating for new natural areas, helping to conserve existing ones, and organizing talks and outings about our diverse habitats and the many living things that inhabit them.
Spotlight on:
Seen in Sligo Dec 2021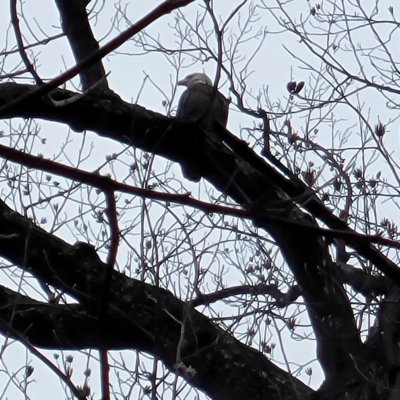 A bald eagle seen in Hillwood Neighborhood Park by Ellen Maidman-Turner in Dec 2021.
Garlic Mustard: pervasive, invasive and edible
Garlic mustard is an unwanted guest in Sligo. It has no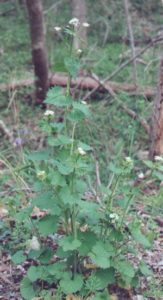 predators. Even deer won't eat it. It's invasive, crowding out native plants that pollinators and other insects, and animals, depend upon.
Through the Parks Dept, the Weed Warriors program has taken on this invasive with special removal techniques. In a springtime race against its maturing seed pods, called siliques, Weed Warriors pull and bag the entire plant. This prevents the seedpods from flinging the tiny seeds to gain a foothold in new areas. In fact, the primary goal with this biennial is to prevent new seeds from entering the seed bank in the soil. The Parks Dept takes the bagged plants to the Dept's composting facility which generates high enough composting temperatures to kill the seeds.
To protect Sligo, it's important to eliminate garlic mustard from your property to reduce sources of seed. Garlic Mustard research into bio-controls and other techniques for ecologically sound management continues. For now, hand pulling is the best effective practice. Bag pulled plants and place them in the trash. Home composting temperatures aren't high enough to render the seeds inactive.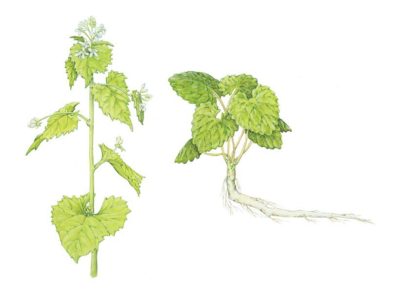 Garlic Mustard (Alliaria petiolata) Garlic mustard has a two-year life cycle, and one plant can produce more than 7,000 seeds before dying. © Rachel Rogge Courtesy of The Nature Conservancy