Water Quality Committee Stormwater Blog
Friends of Sligo Creek is partnering with Anacostia Riverkeeper, Alliance for the Chesapeake Bay, Corazon Latino, and Friends of Lower Beaverdam Creek on a new volunteer-centric water quality monitoring program funded by the National Fish and Wildlife Foundation.
Monitoring by volunteers will run from July through the end of September. Two sites in Sligo Creek will be monitored every other Wednesday. Volunteers will measure water temperature, air temperature, pH, and dissolved oxygen. They will collect water samples to drop off with Anacostia Riverkeeper for analysis of bacteria and turbidity. In case of heavy rain, sampling may be done the following day. All results will be posted online within 24 hours.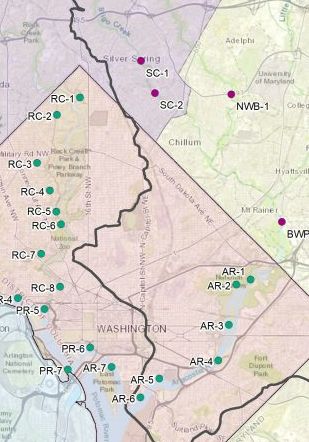 Two locations in Sligo Creek have been selected for monitoring, labeled SC-1 and SC-2 on the accompanying map:
(1) SC-1 between Wayne Ave. and Piney Branch Rd., near the parking pull-off along Sligo Creek Parkway; and
(2) SC-2 is near the first parking lot on Sligo Creek Parkway downstream from the Maple Ave.
Photos showing both locations will be posted on the websites of Anacostia Riverkeeper and Friends of Sligo Creek. The sites themselves will be marked by orange tape tied to nearby trees.
For more information, contact [email protected] or visit Anacostia Riverkeeper.org.
Water Quality Committee Stormwater Blog Friends of Sligo Creek is partnering with Anacostia Riverkeeper, Alliance for the Chesapeake Bay, Corazon Latino, and Friends of Lower Beaverdam Creek on a new volunteer-centric water quality monitoring program funded by the National Fish and Wildlife Foundation. Monitoring by volunteers will run from July through the end of September. Two sites in Sligo Creek will be monitored [...]