Sweep the Creek Fall 2013
See the scenes from the Fall Sweep.
Check off another successful fall Sweep the Creek, held by FOSC as part of the National Public Lands Day weekend on September 28-29, 2013. We had gorgeous weather both days, and lots of volunteers who, decked out in their working gloves, looked great also! More specifically, we had 348 volunteers who picked up 236 bags of trash and 19 bags of recycling.
This Sweep attracted several groups, which we always enjoy. We even ran out of SSL forms in some sections, for which we apologize. If you have any problem getting your hours approved, please email the Sweep Coordinator to resolve it. Participating groups included: Cub Scout Pack 275, Takoma Park Recreation Department, Green Club of Silver Spring International Middle School, St. Luke's Church, Girl Scout Troop 1897, Cub Scout Pack 478, Albert Einstein High School Environmental Club, and Potomac Pathfinders.
The Sweep cleanup sites were also listed as part of the Ocean Conservancy's annual International Coastal Cleanup. We collect data on the types of trash we find during our Sweeps and report this data to the the Ocean Conservancy. The pie chart below shows the most prevalent types of trash we found in samples from 4 of our 11 Sections. The Ocean Conservancy uses data like ours for their ongoing research on sources of trash.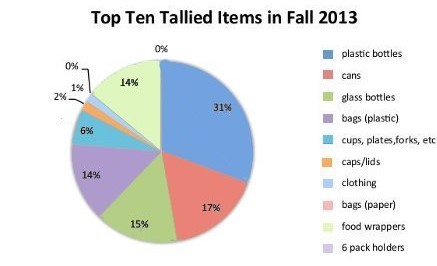 It is shocking to see what gets thrown into the creek, but all the same, somewhat interesting to behold. Some of the more curious items included: Batman basketball, car battery, old white erase board, snake skin, dead deer (which was reported to Montgomery Parks for removal), small statue of a turtle, cache of about 30 pennies, cooking pan, old shovel, old foot scooter (nearly completely rusted through), shoe tree, large quantity of kitchen tiles, wire fencing, jacket, a driver's license, two cell phones, old car bumper, bike frame, walker, shopping cart, deer skull, and, of course, more than one car tire.
We did face one small problem during the Sweep, however. We are still in need of someone to help assign tablers to each section before the Sweep. We have been improvising on this, and in some sections things got a big confusing since we did not have a tabler to help out. If you like supporting the Sweep, please consider "reapplying" your sweep help to assign tablers (we have a list of available volunteers). We will do fine with one less person on the day of the Sweep, but really need someone in this role in the two or three weeks prior. It requires 3-4 hours per Sweep. For more information, email the Sweep Coordinator.
Thanks again to Henry Coppola, the Stream & Park Cleanup Coordinator from Montgomery Parks, who coordinated our SSL volunteers, provided our bags and gloves, and had the bags picked up after the Sweep. See an album of photos by Henry Coppola.
The Sweep is one of our best collaborations, thanks to all the section leaders, tablers, outreach committee members, trash picker-uppers, and everyone who else helps make this a wonderful community event! Thank you all again.
Patton Stephens – Sweep Coordinator
Photos
The following photos were taken by Henry Coppola