FOSC won a Community Champion grant from Constellation Energy, an Exelon Company, which will fund a new printing of FOSC's Spanish language brochures. These brochure have turned out to be very popular. The demand quickly exceeded what FOSC could provide from its own printing budget. With the grant, FOSC will be able to print an additional 1,000 brochures in Spanish.
Once printed, volunteer FOSC members will add the brochures to the FOSC kiosks. Located throughout the park, the kiosks have a central display a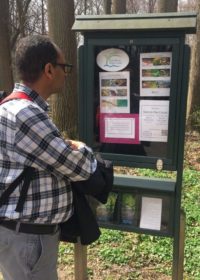 rea for FOSC events and natural history notes. Below, four brochure slots display the various FOSC brochures.
We are currently looking for a volunteer to update the central display on the kiosks with our Fall/Winter information, artfully presented. If you're interested, please contact [email protected].