A green corridor trail just east of Wheaton now links Sligo Creek Park and the Northwest Branch Park.
Completion of the Northwood Chesapeake Bay Trail
Ed Murtagh – November 22, 2011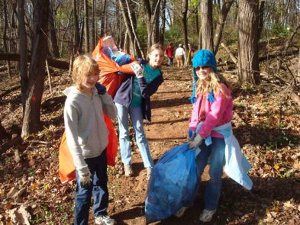 On Saturday, students, community members and volunteers from Potomac Appalachian Trail Club (PATC) completed the Northwood Chesapeake Bay Trail in the Breewood Park.
The trail, which is just east of Wheaton, now connects Sligo Creek Park with Northwest Branch Park. This trail has been a long time in the making.
The project was led by Erol Miller, a teacher from Northwood High School, and Jennifer Chambers with the PATC. Several community groups also participated in the creation of the trail.
For two years, volunteers have been removing trash and exotic invasive plants and creating a natural surface trail. This green corridor, which was once used as a dumping ground for automotive parts and trash, has slowly been transformed into an access for the community.
Already, people have been hiking the trail and running cross country meets. The green space is also being used by Northwood High School students to learn about environmental science. For background on the project, see www.stormwaterpartners.org/?p=133