The 10 Habitats of Sligo Creek
Explore the many habitats that you can encounter in our watershed, from the aquatic environments of our streams and ponds, to the wetlands of our floodplains and vernal pools, to different hillside woodlands, and our sunny meadow-grasslands. Each one supports a unique assemblage of plants and animals that contributes to the tremendous natural variety across Sligo's watershed.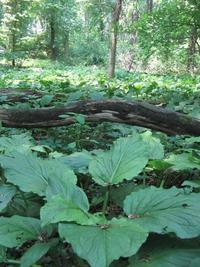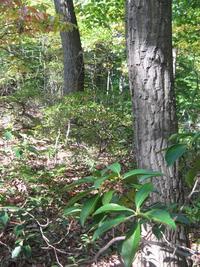 Despite its narrow confines and modest length, Sligo Creek Park is home to a wide variety of habitats, each with its own qualities based on soil, sunlight, slope, aspect (direction it faces) and water. Different combinations of these qualities support different sets of plants and animals that are adapted to them.
In Sligo, most of the habitats are distinguished by water. In aquatic settings, the mix of plants and animals depends on whether water is moving or still, deep or shallow, perennial or seasonal. In terrestrial contexts, the flora and fauna are determined by whether the water seeps in gradually through deep soils on slopes, runs quickly off thin, sloping soils; saturates soils on flat surfaces, or emerges from underground seeps. In contrast, Sligo's open areas are characterized less by the behavior of water than by an abundance of sunlight.
The Park's aquatic habitats include streams and tributaries, where wading birds, raccoons, and water snakes hunt minnows and crayfish; artificial stormwater control ponds, where six species of frogs breed every spring; and a few ephemeral vernal pools, where wood frogs and spotted salamanders can reproduce in the absence of fish predators.
Sligo's woodlands consist of dry woods on slopes with thin soils, where chestnut oaks tower above the spectacular blossoms of mountain laurel; moist woods with deep soils, where a host of delicate, spring wildflowers bloom; and flat floodplain woods, where giant sycamores loom and Sligo's largest birds build their nests — herons, night-herons, wood ducks, red-shouldered hawks, and barred owls.
Perhaps little noticed, but particularly valuable, are Sligo's wetlands, with their lush growth of skunk cabbage, in both low wetlands and upland seeps.
Scattered around the Park are tree-less, sunny open lands, comprised of edges and grasslands. The largest of these are at the Pepco powerline corridor, where one finds abundant grasses, summer wildflowers, and a host of butterflies and other pollinators.
CONTENT: Compiled and written by Michael Wilpers (FOSC Natural History Committee), based on J. Parrish and R. G. Steinman, Native Plants of the Sligo Creek Watershed (www.www.friendsofsligocreek.org, Friends of Sligo Creek 2003), personal observations, classes in the Natural History Field Studies Program of the Audubon Naturalist Society, and consultation with Laura Mol (Natural History Committee). Format inspired by J. Long, "Habitats of Chapman Forest"(http://www.chapmanforest.org/habitats.shtml), accessed September 2011, Chapman Forest Foundation, 2008). Habitat categories adapted from Parish and Steinman (above); C. Fleming et al., Finding Wildflowers in the Washington-Baltimore Area (Johns Hopkins, 1995), G. Fleming, The Natural Communities of Virginia: Classification of Ecological Community Groups, version 2.4 (Virginia Department of Conservation and Recreation, 2011, http://www.dcr.virginia.gov/natural_heritage/nctoc.shtml); M. Godfrey, Field Guide to the Piedmont (University of North Carolina Press, 1997); P. Alden and B. Cassie, National Audubon Society Field Guide to the Mid-Atlantic States (Knopf, 1999); and R. Tiner, In Search of Swampland: A Wetland Sourcebook and Field Guide (Rutgers, 2005).
PHOTOS: All photos by Michael Wilpers, except vernal pool, by Ed Murtagh