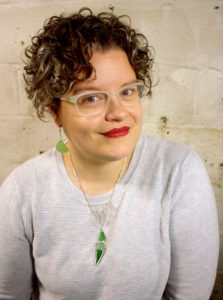 Local jewelry artist Lauren Reynolds recently sent a check to FOSC from the sales of her recycled Sligo glass jewelry in her Etsy shop. Thank you, Lauren! We're applying it toward the monthly email service FOSC uses to send the newsletter.
"I'm forever collecting bits of this and that, and using them to fulfill a lifelong desire to create new things from old. I'm the person who picks up old furniture from your curb, brings home sections of the tree you just cut down, and buys all your old ceramics from your garage sale; who will never, ever turn her basement into a guest room, because that's where I store all my treasures. I'm an artist, junk collector, and jack-of-all-trades. Making art is my happy place, and I'm always on the lookout to add to my happy-making supplies.
My kids and dog and I have been walking along the creek a lot since we moved here three and half years ago, and I've noticed that Sligo Creek has a lot of cool tumbled glass pieces on its banks…way more than I've ever found on a beach. There's even more not-so-tumbled glass that just needs a little smoothing, so I started to collect it during my walks, and bring it home to my rock tumbler (because of course I have a rock tumbler).
I found that if you throw it in with a bit of creek sand and salt and let it tumble for a few days, the resulting glass pieces are beautifully silky and elegant, and just begging to be jewelry. So then I break out my jeweler's tools (because of course I have jeweler's tools) and set to work. The results are in my Etsy shop. It's really feeding my creative soul, and I'm so pleased to be able to give the profits with FOSC, and give back to the creek that gives me its treasure for free." –Lauren Reynolds