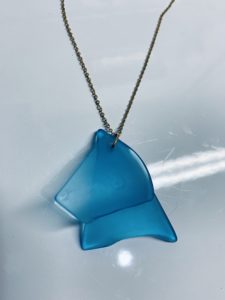 Local jewelry artist Lauren Reynolds is recycling glass litter she removed from Sligo Creek into earrings and necklaces for sale, with all profits going to benefit Friends of Sligo Creek.
Lauren contacted FOSC to see if we'd be interested in featuring her creations. We are delighted to partner with her especially during the Individual/Family Sweep the Creek event happening starting today through Sunday, October 11th.
Lauren shares her inspiration: "My family has lived near Sligo Creek for three years now, and we walk along it frequently – I've started picking up bits of glass, both to remove trash and to protect little toes and paws, and it recently occurred to me that it would be fun to take those glass bits, tumble them around in creek sand, and turn them into wearable art. I've got an Etsy shop up and running, and any profits from sales of jewelry that originated in the creek will go to benefit FOSC. Purchase your own piece of the creek to wear, or gift one to a local friend or family member!"
We hope you will check out Lauren's Etsy shop, and participate in the Individual/Family Sweep the Creek in the next 2 weeks as well. Take a trash bag and gloves on your next outing in Sligo and help "Sweep the Creek" of litter. More info is available on the FOSC calendar and the Sweep the Creek page. We hasten to add that you should not handle bits of broken glass or other sharp trash you find in Sligo!